Service Details
Target Age
12 - 18 years
16 - 18 years
Support Type
In-person - Group
In-person - One-to-one
Contact Details
Contact Person(s)
Lillian Ashe|Julie Edwards
Address
Ballycullenbeg, Mountmellick,, Co. Laois,
Telephone
86231003
Email
Lillian.ashe@foroige.ie
Website
Emergency Assistance
Open Up is not a crisis service. If you or someone you know needs immediate help please contact one of the services below immediately.
If someone is hurt or in danger call the emergency services straight away. Emergency services can be contacted at any time by dialling 999 or 112 in Republic of Ireland or 112 in Europe.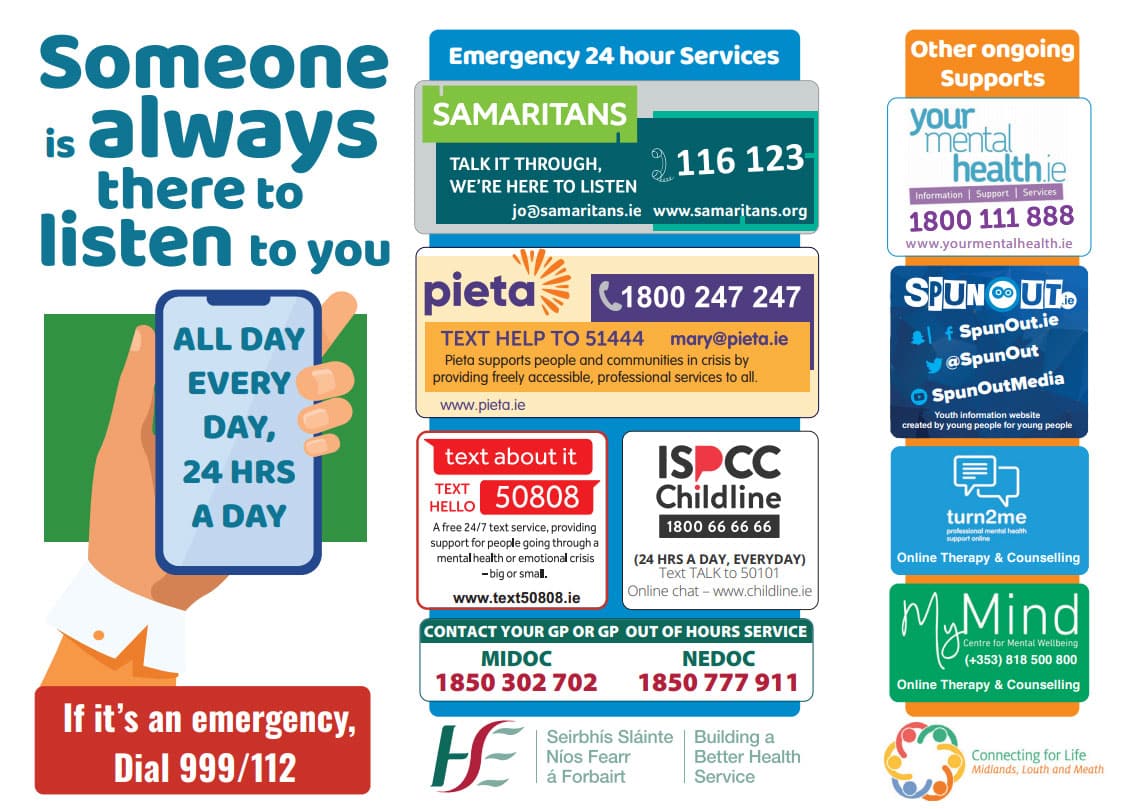 Additional Service Information
Referral Process
Self-referral
Other healthcare/socialcare provider
Referral with parental consent for under 18's
Service Description
1. Involve young people in suitable activities to facilitate personal development and encourage civic responsibility and improve their long-term employability prospects
2. Divert young people from becoming involved in criminal or anti-social behaviour
3. In achieving the above, projects will seek to support and improve local Garda community relations and enhance the quality of life in the area
The projects have expanded rapidly in recent years and are proving a major instrument in the management and development of young people at risk
These projects can be accessed by young people referred by An Garda Siochána, young people identified as being at risk of becoming involved in anti-social or criminal behaviour.
List of Services Available
Programmes & Activities
Individual and group work
Life Skills
Mentoring
Peer Education
Youth Information
Family Support
In-schools Programmes
Drugs Education
Teenage Health Initiatives
Personal Development Programmes
Community Based Programmes
Seasonal Programmes
Video Production
Special Interest Groups
Cookery
Health & Fitness
Outdoor Pursuits
Day Trips
Wheelchair Access
Yes