Service Details
Target Age
0 - 11 years
12 - 16 years
Support Type
In-person - Group
In-person - One-to-one
Online - Group
Online - One-to-one
Telephone
Contact Details
Contact Person(s)
Dominic Rose
Address
2nd Floor Alvernia House St Fintan's Campus, Dublin Road, Portlaoise, Laois R32 YFW6,
Telephone
578696152
Contact Hours
9am to 5pm
Emergency Assistance
Open Up is not a crisis service. If you or someone you know needs immediate help please contact one of the services below immediately.
If someone is hurt or in danger call the emergency services straight away. Emergency services can be contacted at any time by dialling 999 or 112 in Republic of Ireland or 112 in Europe.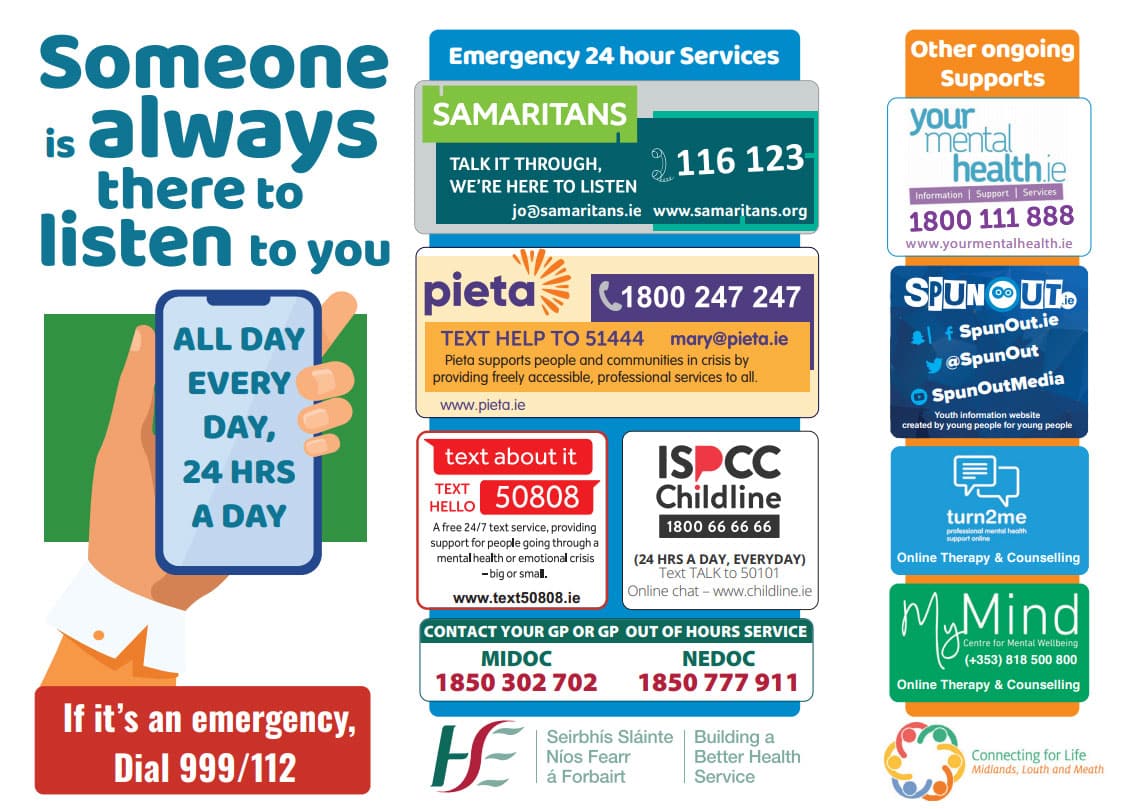 Additional Service Information
Referral Process
GP referral
Other healthcare/socialcare provider
Referral with parental consent for under 18's
Service Description
Laois CAMHS service is available to young people between
the age of 6 and 16 years living in the Laois area.
We provide assessment and treatment for young
people and their families who are experiencing Moderate to
Severe mental health difficulties. Staff within CAMHS have
specialist training in child and adolescent mental health and
possess a wide range of experience and knowledge in working
with this client group
List of Services Available
Our team consists of the following disciplines: Psychiatry,
Psychology, Nursing, Social Work, Social Care,
Occupational Therapy, Speech and language Therapy,
and Dietetics.
These services are offered in an individual or group setting.
The restrictions associated with the Covid-19 pandemic led to a transition to use of telehealth platforms to provide assessment and interventions and this has continued post the pandemic when requested or indicated.
Wheelchair Access
The service can be accessed by wheelchair users thorough the elevator
located on the ground floor of the building