Service Details
Support Type
In-person - Group
In-person - One-to-one
Contact Details
Contact Person(s)
Michael Delaney Hennessy
Address
49/50 O'Connell Street, Waterford, Waterford X91 E866,
Telephone
877168674
Email
michael@mensnetwork.ie
Contact Hours
Monday to Friday 9am -5:30pm
Website
Emergency Assistance
Open Up is not a crisis service. If you or someone you know needs immediate help please contact one of the services below immediately.
If someone is hurt or in danger call the emergency services straight away. Emergency services can be contacted at any time by dialling 999 or 112 in Republic of Ireland or 112 in Europe.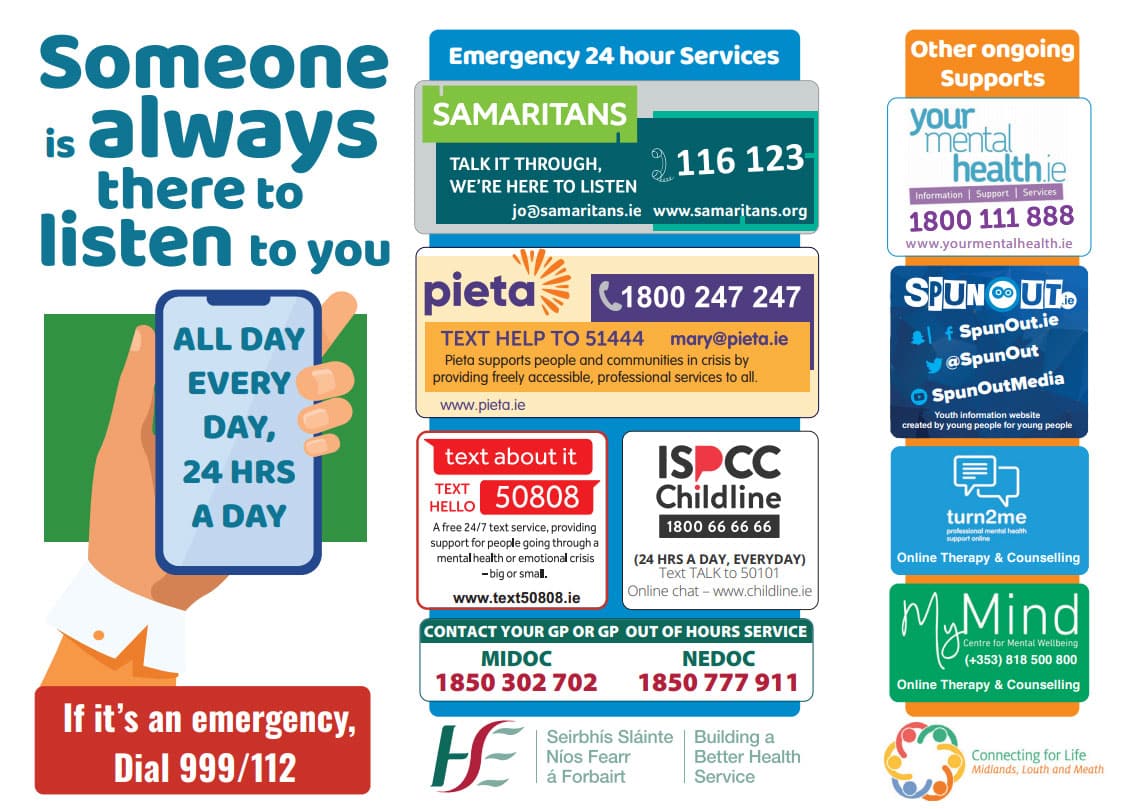 Additional Service Information
Referral Process
Self-referral
GP referral
Other healthcare/socialcare provider
Service Description
MEND (Men Ending Domestic Abuse) is a programme for men, who have been violent or abusive within their intimate partner relationships. It is a project of Men's Development Network.
The primary aim of the programme is the safety and wellbeing of women and children.
MEND delivers the national Choices Programme to support men to end their violent or abusive behaviour and become non-violent and respectful within their intimate partner relationships.
The Programme involves one-to-one assessment and pre-group sessions followed by 25 group sessions.
MEND also provides an integrated Partner Support Service for the partners or ex-partners or the men on the programme.
List of Services Available
HE CHOICES PROGRAMME – WHAT CAN I EXPECT AS A MAN REFERRED TO MEND
The Programme we deliver is called: Choices and it has 3 stages after a man has been referred or referred himself to MEND. The first stage is the Assessment.
1) Suitability and Risk Assessment
The Assessment takes an average of two, 1 hour-long one-to-one in person sessions and the primary aim of the Assessment is to work out with you if the Choices Programme is suitable for you at this time.
2) The Pre-Group One-to-Ones
Over the course of the programme you will have a number of one-to-one in person sessions each of an hours duration, some to prepare you for the group stage of the programme and if necessary some one-to-ones during the group stage to review how you're getting on in the process of change.
3) The Group Stage
The group stage of the programme gives you a unique opportunity in a supportive atmosphere to learn new ways of behaviour that will be healthier for you and more respectful to others, in particular your partner and/or children. Together with trained facilitators and other men who have similar issues you will meet for 23 weekly sessions of two hours duration, normally happening from 7.00 – 9.00pm.
Wheelchair Access
Ye we are wheelchair friendly.