Service Details
Support Type
In-person - One-to-one
Online - One-to-one
Telephone
Contact Details
Contact Person(s)
Imelda Wickham
Address
St Brigids's New Road Clondalkin, Dublin 22, Dublin D22V406
Telephone
087 609 7686
Email
familynewd@gmail.com
Contact Hours
Contact by telephone and email contact available at all times
Website
Emergency Assistance
Open Up is not a crisis service. If you or someone you know needs immediate help please contact one of the services below immediately.
If someone is hurt or in danger call the emergency services straight away. Emergency services can be contacted at any time by dialling 999 or 112 in Republic of Ireland or 112 in Europe.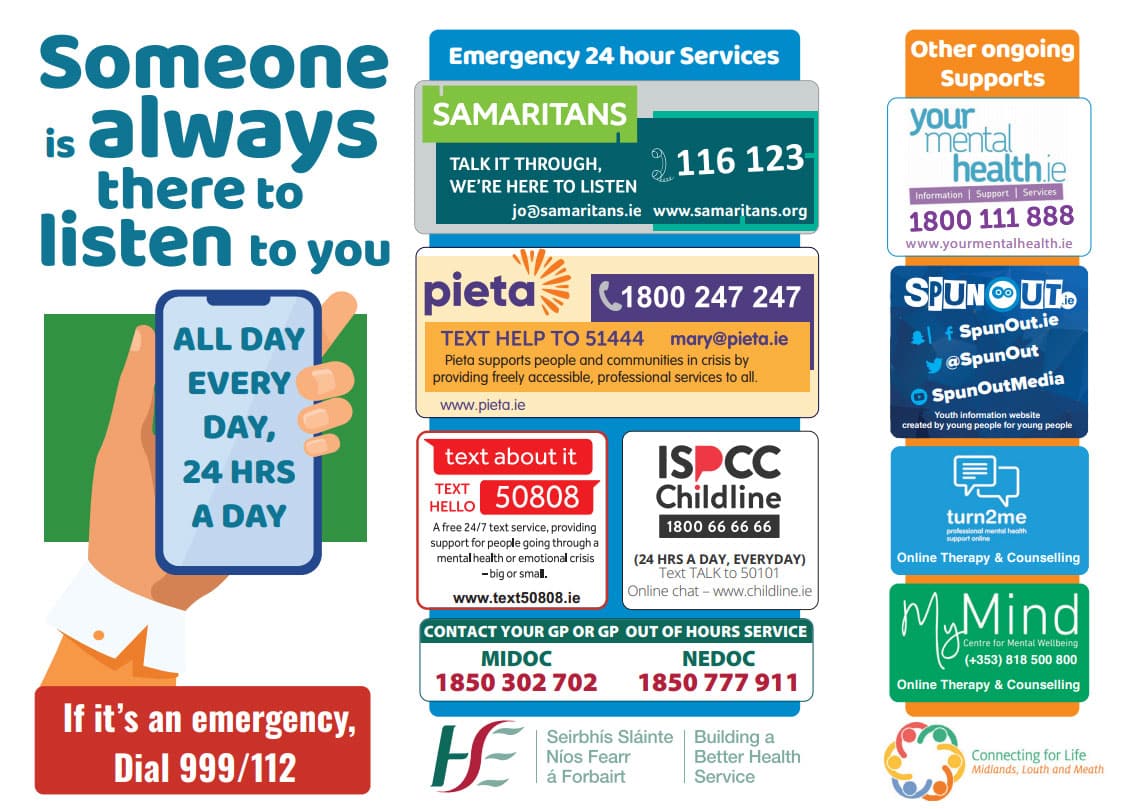 Additional Service Information
Referral Process
Self-referral
GP referral
Other healthcare/socialcare provider
Service Description
"not my crime, stil my sentence"
Coping with having someone you care about sent to prison can be very distressing. Families can be affected in all kinds of different ways. Typical of the challenges to be faced are: coming to terms with having a family member in prison; dealing with the complex mixture of feelings and emotions experienced, e.g. confusion, anxiety, sadness, loss; getting to know how the prison system operates; maintaining contact and a sense of relationship through visits, letters and video/phone calls; planning for release and all the issues that brings up.
New Directions offers a free, confidential information and support service for families affected by imprisonment. It offers a listening ear and emotional support to help families with the challenges they face.
List of Services Available
New Directions offers individual/family counselling/support service.
Clients are seen in-person, on-line or over the phone.
Provision of restorative justice service as required
Advocacy on behalf of the families of people in prison
Wheelchair Access
yes