Service Details
Categories
Schools & Education Support
Health & Primary Care
Mental Health
Bereavement
Training
Support Type
In-person - Group
Telephone
Contact Details
Contact Person(s)
Josephine Rigney
Address
Old Birr District Hospital John's Terrace, Birr, Co. Offaly R42 AN20
Telephone
086 8157850
Contact Hours
9am - 5pm. Monday to Friday.
Website
Emergency Assistance
Open Up is not a crisis service. If you or someone you know needs immediate help please contact one of the services below immediately.
If someone is hurt or in danger call the emergency services straight away. Emergency services can be contacted at any time by dialling 999 or 112 in Republic of Ireland or 112 in Europe.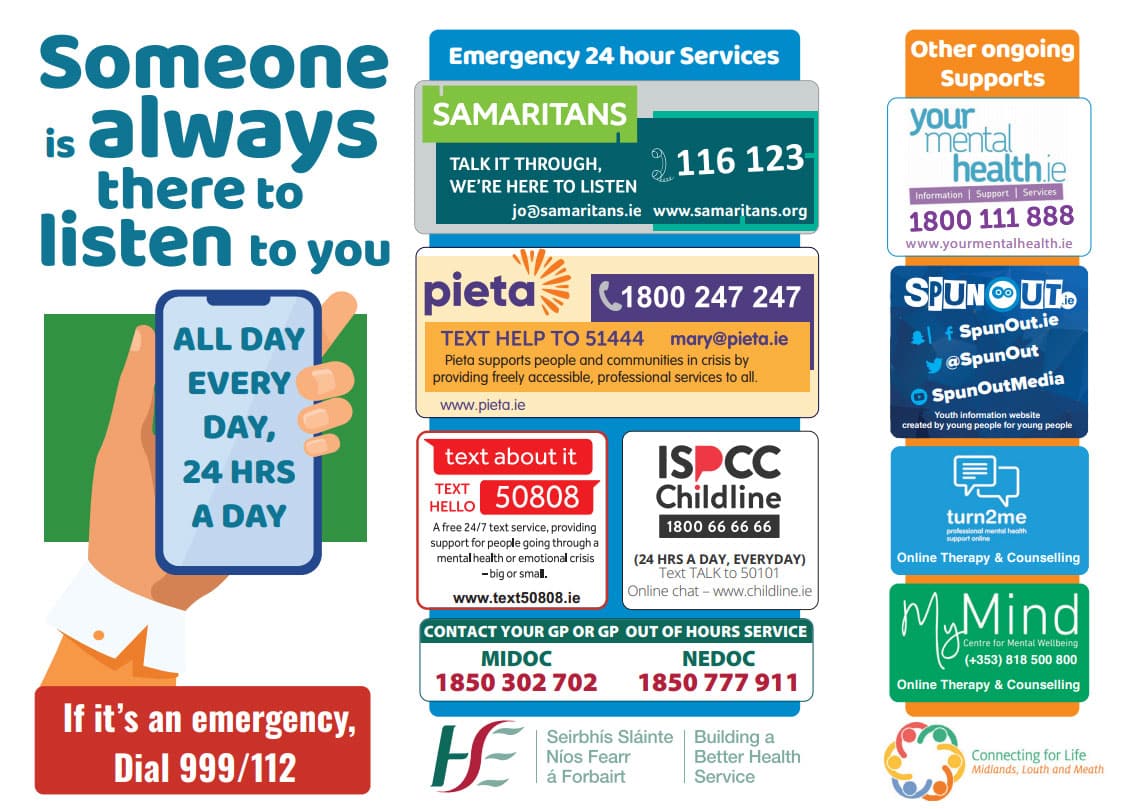 Additional Service Information
Referral Process
Self-referral
Other healthcare/socialcare provider
Service Description
The HSE Resource Officers for Suicide Prevention work within the HSE/Community Healthcare Organisation Midlands Louth/Meath. Their work is aligned with the National Office for Suicide Prevention with regard to the implementation of the National Strategy to Reduce Suicide – Connecting for Life.
A Resource Officer is assigned to each of the two counties of Laois/Offaly, Longford/Westmeath and Louth/Meath.
They work in partnership with statutory and voluntary agencies including schools, NGOs, sporting groups and community groups to increase awareness of mental health and suicide prevention strategies.
List of Services Available
The various components of the work of the Resource Officers include:
 Coordinate and lead implementation of the national strategy 'Connecting for Life' at HSE/Community Healthcare Organisation level
 Coordinate and deliver suicide and self-harm prevention training to health and social care, educational and other frontline staff and communities.
 Deliver suicide bereavement training and postvention responses in communities when appropriate
 Lead the development of Community Response Plans to a Suspected Suicide Death across HSE/CHO areas
 Provide guidance, advice and knowledge to individuals, community groups, workplaces and other settings that may request same.
Wheelchair Access
N/A