Service Details
Support Type
In-person - Group
In-person - One-to-one
Online - Group
Online - One-to-one
Telephone
Contact Details
Contact Person(s)
Carol Delaney
Address
St. Fintan's Campus Dublin Road,, Portlaoise, Co. Laois R32YFW6
Telephone
057 86 96916
Contact Hours
Mon-Thursday 9am - 5pm
Friday 9am - 4pm
Emergency Assistance
Open Up is not a crisis service. If you or someone you know needs immediate help please contact one of the services below immediately.
If someone is hurt or in danger call the emergency services straight away. Emergency services can be contacted at any time by dialling 999 or 112 in Republic of Ireland or 112 in Europe.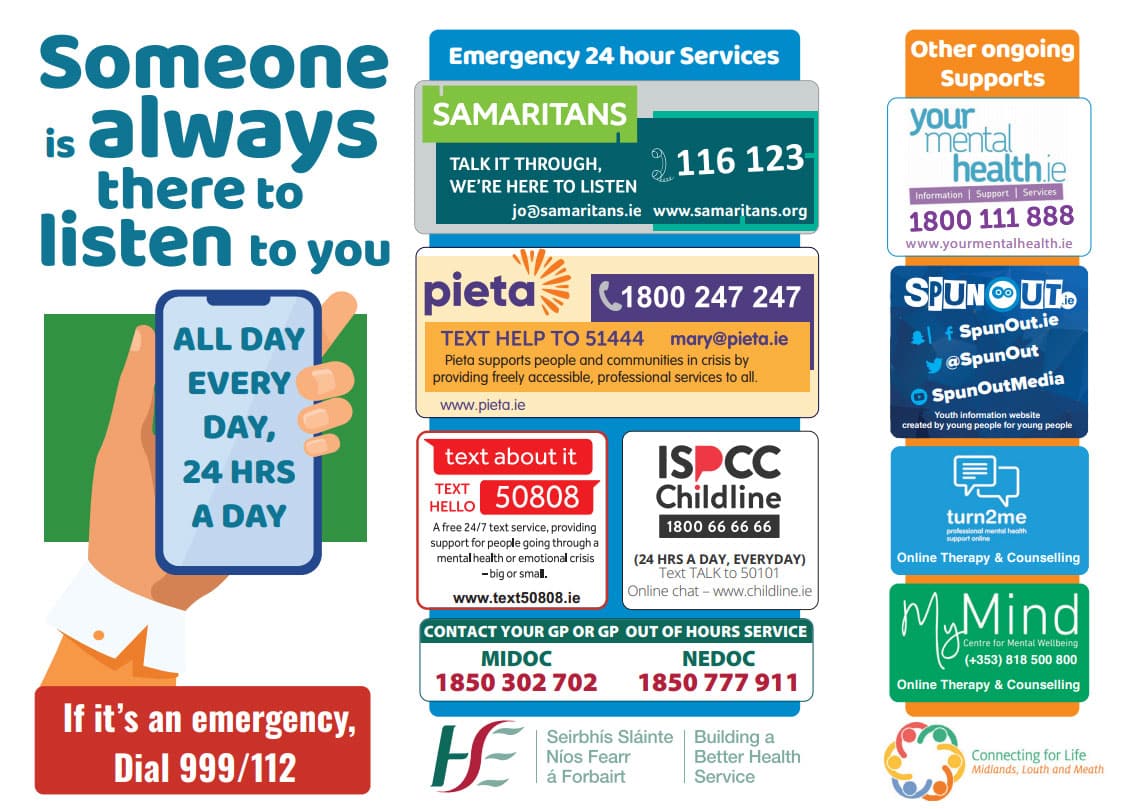 Additional Service Information
Referral Process
GP referral
Other healthcare/socialcare provider
Referral with parental consent for under 18's
Service Description
YAMHS provides community based assessment and treatment for Young people between the ages of 16 to 18 years, who present with moderate to severe emotional, behavioral and mental health difficulties.
Some of the most common presentations include:
o Major mood disorders
o Deliberate self harm
o Psychosis
o Obsessive Compulsive Disorder
o A.D.H.D.
o School refusal
o Psychosomatic Disorders
o Eating disorders
o Childhood anxiety disorders
To access a CAMHS service you need to be referred by your GP.
List of Services Available
A broad range of services are available to support the mental health of Young People. YAMHS provide specialist mental health treatment and care to young people from 16 to 18 years of age through a multidisciplinary team.
The aim of Laois/Offaly YAMHS is to offer Young People an individualised programme of care appropriate to their needs. The service aims to engage young people together with their families in a manner which is respectful, empowering and person centered Treatment options are wide ranging depending on the specific needs of the young person and include individual, group and family work. Pharmacotherapy is also considered if clinically indicated.
Treatments available include:
o Individual Therapy
o Family Based Treatment Approach
o Social Integration
o Parent Support
o Life Skills
o Relaxation
o Psychoeducation
o ADHD Review Clinics
o Anxiety Management
Wheelchair Access
Wheelchair accessible upon request